Video update here:

______
May 5, 2015
An extremely rare 4.0 magnitude (4.2 revised upwards) earthquake has struck Southern Michigan.
The fault zone in Michigan is directly related to (and influenced by) the New Madrid Seismic Zone (NMSZ).
As you can see in this graphic released by the Indiana Geological Survey, the two seismic zones are adjacent to one another.  When one area is displaced, it puts pressure upon the other location.
_________
We were watching for a 4.0M earthquake to strike Southeast Canada into New York / Pennsylvania — now the area nearby is hit with a 4.2M earthquake.
This is close enough for me to consider this a direct hit in the forecast.

________
The New Madrid had just experienced a borderline 3.0M earthquake less than 24 hours BEFORE this 4.0M in Michigan.
The New Madrid earthquake yesterday led me to make a new warning post for the area.
https://www.facebook.com/DutchsinseOfficial/photos/a.363126717073092.106418.296574443728320/929601380425620/?type=1&theater
Quote the midwest / New Madrid / Wabash Valley forecast from 13 hours BEFORE this 4.0M struck:
May 1, 2015:  "2.9M earthquake along the New Madrid seismic zone.
As expected pressure is now beginning to transfer Eastward along the edge of the craton due to the pressure this past week on the South and Western portions of the plate.
Notice the 2.9M earthquakes flanking both sides of the Oklahoma fracking operations.
Colorado fracking 2.9M… swarm of fracking earthquakes in Oklahoma.. and then a "natural" 2.9M translates eastward at the nearest "weak point / release point" for the pressure.
The "natural" pressure transfer earthquakes should begin to show along the New Madrid to East coast over the next several days."
_________
Now, May 2 2015, the area between the New Madrid and South Quebec is hit with a 4.0M event.
_________
Michigan Shaken By 4.2-Magnitude Earthquake
http://www.huffingtonpost.com/2015/05/02/michigan-earthquake_n_7195914.html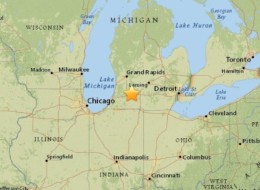 Residents of southwestern Michigan were unexpectedly shaken by a 4.2-magnitude earthquake Saturday, according to the U.S. Geological Survey.
The first reports of the earthquake were circulated on social media around 12:30 p.m. EDT Saturday.
Never in 36 years have I felt an earthquake in Kalamazoo, MI. It just shook the whole building for approximately 5-7 seconds

— Ed Annen III (@EA3Kazoo) May 2, 2015
Shortly thereafter, the U.S. Geological Survey confirmed that the 4.0-magnitude earthquake hit nine miles southeast of Kalamazoo at 12:23 p.m. The earthquake's magnitude was later upgraded to 4.2.
 According to Detroit's WWJ News, it was one of the strongest earthquakes ever experienced in Michigan. Geophysicist John Bellini told local radio station WHTC that the quake could be felt as far away as northern Indiana and Ohio.
There have been no reported injuries.
________
M4.2 – 8km S of Galesburg, Michigan
http://earthquake.usgs.gov/earthquakes/eventpage/us20002avh#scientific_origin:us_us20002avh
Magnitude /

uncertainty

4.2 mb

± 0.0

Location /

uncertainty

42.212°N 85.429°W

± 2.2 km

Depth /

uncertainty

5.9 km

± 6.8

Origin Time
Number of Stations
–
Number of Phases
13
Minimum Distance
75.03 km (0.67°)
Travel Time Residual
0.62 sec
Azimuthal Gap
73°
FE Region
Michigan (468)
_________